EZ Riders Bicycle Club
Hilton Head Island, SC
Our purpose is to have great fun riding bicycles on Hilton Head Island, the surrounding lowcountry and coastal Georgia. Along the way we expect to get some exercise, enjoy the scenery and make good friends. These social rides are followed by lunch at a nearby restaurant.
On Thursday mornings we start riding at 10:00 a.m. sharp. Please arrive by 9:45 a.m. to unload your bike. We ride a distance of 10 - 15 miles at an average speed of 9 - 11 mph. It is important for you to maintain your average speed within this range.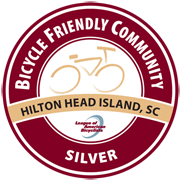 A rider needs some means of transporting the bicycle to and from the parking location such as a bike rack, SUV or ride your bike if nearby. See the Links page for some bike rack ideas.
Each rider is expected to wear a helmet.
Please read the Frequently Asked Questions (FAQ) page and see the Ride Calendar and Ride Statistics for more information.
---
---